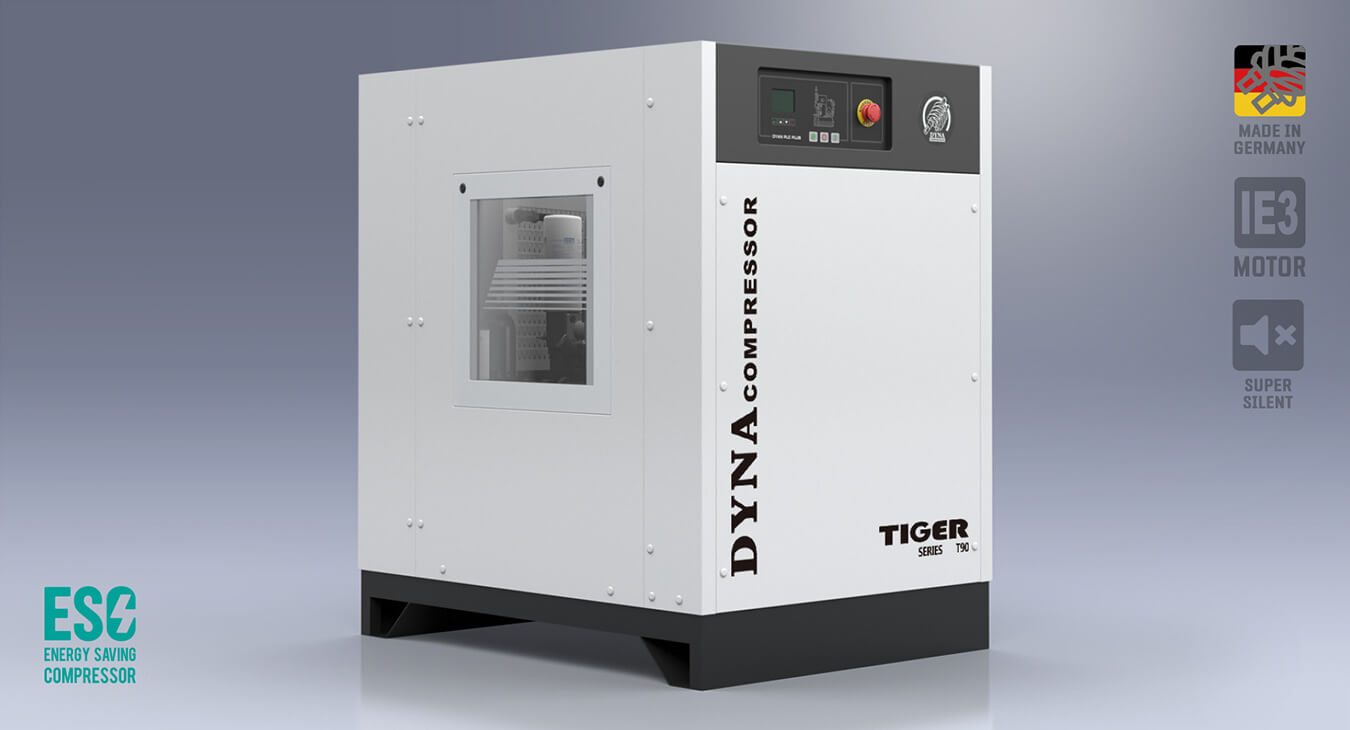 Air end compression system

100% imported from Germany. In order to ensure the quality of operation and stable air flow of the the air compressor, we use German high-precision rotors with stable performance, excellent quality, and more durability.
Belt transmission System

Patented cam to adjust the right tension which ensure long-life running, without power loss, it enhance the efficiency.
Seamless steel pipe line design

DYNA screw type air compressor adapted the latest technique of connector of bent pipes, with audio frequency monitored by national certified laboratory, DYNA developed exclusive design to use seamless steel pipeline for all series. Quality is guaranteed, no oil leakage.
Cooling system

Oil filtration + thermostat = anti-emulsification, no degeneration. Design according to subtropical weather, optimal tipping point of water evaporation be fixed, cycling oil stay pure, no emulsification, no degeneration, normal machine operation insured.
Oil/air separator system

Pressure retaining valve reduce the pressure difference, the oil particles atomized and diffused after impact, with patented mechanical oil tank separation, the air discharged with oil content below 2 ppm.
Dust filtration net System

DYNA R&D team designed fore-installed dust infiltration net, Capture efficiency it's over 90%, efficiently blocked the dust from the machine. It extends durability of consumables, light in weight, easy installation and replacement, small in pressure loss, big in air volume processed. It saves a lot of equipment and man power.
Model
Number
F.A.D. at Working Pressure
Motor
Power
Air Outlet
Pipe Dia
Compressor Dimensions
Net Weight
7kg/cm²
10kg/cm²
13kg/cm²
m³/min
cfm
m³/min
cfm
m³/min
cfm
kW
HP
inch
L × W × H (mm)
kgs
T90
T90-11
1.88
66
1.59
56
1.40
49
11
15
1
1265 × 890 × 1310
393
T90-15
2.4
85
2.10
74
1.75
62
15
20
1
1265 × 890 × 1310
405
T90-11VS
1.88
66
1.59
56
1.40
49
11
15
1
1265 × 890 × 1310
393
T90-15VS
2.4
85
2.10
74
1.75
62
15
20
1
1265 × 890 × 1310
405